…a Fuji Team road bike passed away suddenly Thursday, August 24th around 4:35pm in St. Paul, MN. The bike was traveling west bound on Transfer Road carrying a passenger when it stopped working. The passenger attempted to revive the bike but was unsuccessful. The preliminary report by authorities suggests the bike died of natural causes as it was 15 years old. Foul play is not suspected and their will be no further investigation. The passenger told this reporter that the Fuji was a trusty ride in races, long tours, and commuting and will be sorely missed. The Fuji was listed as a "Component Donor" so a technician will remove all the bike parts that could be donated to help prolong the lives of other bicycles. There will be no service but the owner asks that you sign up your own bicycles into the Component Donor Program in remembrance. Please be advised that the photo of this accident is graphic and might be disturbing to some readers. Please move your children out of view of your computer before you look at this picture.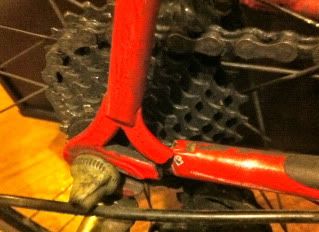 My daughter, Audrey Hull, was recently killed by a truck while riding her bicycle at the corner of 15th Av. and 4th St. in Minneapolis.


If the city had hired a bicycle and pedestrian coordinator years ago—a position that exists in many comparable cities—the changes now proposed for that demonstrably dangerous corner might have been in place on April 21, 2011, and Audrey might still be alive.


I urge Minneapolis to proceed with its plans to hire the bicyclist and pedestrian coordinator so that fewer families will have to bear the emptiness that I now carry in my heart.
…you guys are watching the velodrome bike racing events of the Olympics. Fixed gear, no brakes, awesome bikes, 40+ degree turns, pushing, shoving, grinding, motor pacing, 40+mph, you can't make this shit up. As an FYI, we have one of the world's best velodromes is in Minneapolis at the National Sports Center. 47 degrees in the turns, made from Adzalia wood (before it became illegal to use it), escape velocity 60mph (the speed that would make you go up the track if you crashed). People my size LOVE track racing.